Introducing the 2005 Version
This is an overview from the time that StageRace 2005 was introduced, to follow-up StageRace 2003. This new version improves the 2003 version at around 75 points. See the major changes that you will experience in the listing below.
Time Cut-Offs
For many people using our software time cut-offs was really the last thing missing from StageRace. Now it's there, but still allowing StageRace to be sufficiently flexible to have your judges act "on the spot", because cut-offs typically get their final decision only after the race has finished.
Publication Profiles
Multiple settings profiles can be set up and a current one can be chosen. This is a great way to differentiate between publications for different audiences (e.g. web, jury, press, etc.). For every profile you can exactly tailor how publications are composed and how they will look.
User Experience
Working better: for everyone.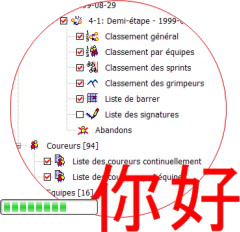 Full Unicode support, therewith becoming suitable for printing publications in virtually every language of the world!
French language added to application executable, therefore StageRace will run in French on computers with a Windows® version in that language.
Publications are generated in the background now, not interfering with your operations in the foreground.
All publications can automatically be assigned communiqué numbers.
Easily clean-up the entered competitor information, or edit the fields of competitors and teams "in-line" in the further-improved list view.
All half stages, bonuses, sprints, etc. can each be configured in one place, rather than on a per half stage basis.
How could we've forgotten about this before? Now easily insert empty placings in the stage arrival, when working in the Arrival dialog.
Programmers of fellow-products can interface with StageRace in a "live" environment, using the StageRace Server.
Classifications Issues
You get more possibilities in generating different classifications.
An HC class is available in addition to the four existing classes for climbing classifications.
Most aggressive rider competition can be enabled by entering points schemes in involved half stage's settings dialogs.
In addition to the existing three masks, now up to ten masked classifications are supported.
Time trial order can be changed now, even after the involved competitors have been ranked for the particular time trial stage (only when you allow for this, through a corresponding setting).
Race Publications
Make race publications look exactly the way you want them to look; even more than with previous versions of StageRace.
Choose to generate an additional general classification sorted on start no. for each half stage.
Easily enter sponsorship information for printing on publications.
Choose half stage numbers to be suppressed when there is only one half stage in a full stage (1-1, 2-1, 3-1, 3-2, 4-1 becomes 1, 2, 3-1, 3-2, 4).
For time trials on gross time an arrival list is generated, that shows the stage results sorted on the moment of arrival of each competitor (specifically targetted at an on-site presenter or journalists).
Choose how to print header and footer information and how the table of contents is composed.
Print teams classifications with a more detailed per-team report.
Print the competitors-list-on-teams in multiple columns now.
Print speed of each competitor in a time trial.
Choose more precisely what to do with the 1/xth seconds when printing time trial results.
Choose to print the number of competitors and teams on competitors lists.
Choose to print competitor names on cross-out lists.
Include time zone information in time stamps, which are now printed with seconds' accuracy.
Without providing complicated style sheets now more precisely lay down the lay-out from inside StageRace, like fonts, sizes and resizeability.
Also print 'dummy' publications now, even if no data (yet) available (prevent 'dead links' on your race web-site).
Enter custom HTML fragments to be added at the top respectively the bottom of publications.
A number of tags are incorporated in the generated HTML to easily parse certain parts of publications, such as the body table, the first ten ranked competitors, etc.
Choose inter-classification hyperlinks not to be included anymore, as this was not useful for many users.
Sign in lists now added to table of contents.
Viewing Publications
Viewing publications is much more convenient now.
Monitor mode in the Edit menu will automatically refresh publications if they are regenerated (e.g. by an other instance of StageRace, e.g. on a different computer). This enables StageRace for use as a monitor application, for instance for an on-site presenter or journalists.
With "Add file to monitor" non-StageRace files (HTML, text) can be opened in a presentation view. As long as monitor mode is switched on, these files will be refreshed upon change.
Choose the display size of your publications.
Use of context-sensitive right-click menu.
Viewed publications that are being updated on the background (by generating or monitoring) have their scroll position restored to the extent from before the update.
Viewed publications are only refreshed when it is that particular publication that is being regenerated, and not when just any publication is regenerated.
Communiqués
You can more conveniently edit your communiqué bulletins now.
Communiqué editor revamped with larger work area and menu (rather than buttons).
Styles sub-paragraph header, bold, italic and underlined can be added to the communiqué body.
Forced page breaks for printing can be added to the communiqué body.
Competitors, teams and team captains can be referenced with special tags, so that they are inserted by StageRace in an uniformed way.
Now get your own free evaluation copy from our Download page.
You may also want to contact Totaal Software for upgrading information.
Detailed specifications of all fixes and added features is available in the Updates overview.