Publications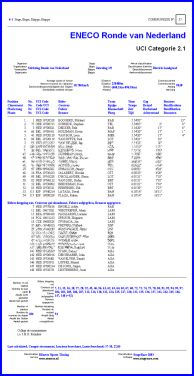 Publications that StageRace makes for you:
Before the race:
Competitors list;
Competitors list per team;
Time trial starting list;
Sign in list; and
Cross out list.
After the race:
Stage classification;
General classification;
Teams stage and general classification;
Sprinting classification;
Climbing classification;
Points classification; and
Communiqués (so you can include comments from the jury, coverage of the race, etc.).
Additionally, up to three so-called masked general classifications can be used for e.g. a regional classification or a youth classification.
Also include these on the appropriate publications:
Competitor counts: before/after, etc.;
Speed;
Distance;
Race information: titles, organizer, location, etc.;
Dropped out competitors;
Signed out competitors;
Event logo image;
Jury signature statement;
Time stamp;
Team vehicles driving order;
Etcetera.
Also read about the following features:
A system for communiqué numbering is in place;
Desired columns, properties and other items for printing can be chosen very easily up to the smallest detail;
All publications are generated as HTML document for immediate internet disclosure, but do nevertheless print perfectly;
Generated publications can be uploaded immediately from within StageRace to your event's web server; and
Publications can be made in any combination of the languages English, French, Spanish, German and Dutch, or any language that you add yourself in our easy-to-use MultiLanguage-database.
The layout of publications and the generated classifications are 100% in compliance with UCI Road Races regulations. Additionally, all the things that aren't covered by UCI regulations are in accordance with the best practices from our own experiences and those of our users.
Numerous examples of publications can be found on the Previews page.
Choose another topic from the Overview page or go on to the next overview topic (link below).