Configuration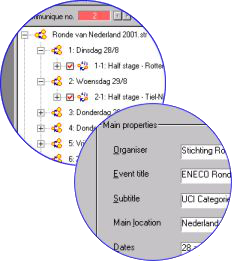 Every event can be uniquely configured. Every entire event, whether it is a single stage or a stage race, has its own file on disk, so that file management is easy, as if you were using documents from your favorite word processor or spreadsheet application.
For a new event you enter some general information and set the settings to reflect all that you want for your race. Then add stages and half stages, set time trials and prologues, set-up bonus points schemes, and the appropriate classifications such as climbing, sprint and points.
Now you are all set to run your event with StageRace!
Events in StageRace are displayed in the form of a tree, which is very intuitive and easy to handle.
There is no limit in the number of stages or half stages that you can create.
Choose another topic from the Overview page or go on to the next overview topic (link below).